If one thing is certain in the world, it's that summer is for vacation. This summer, what better way to spoil your special someone than by splurging on an exotic, luxury getaway! Whether you and your partner are looking for a thrilling adventure, relaxing retreat, or some Instagram-worthy views, we've got you covered. 
Time to pack your bags! Here are our top 10 hotel picks for an exotic, romantic getaway with your sweetheart this summer.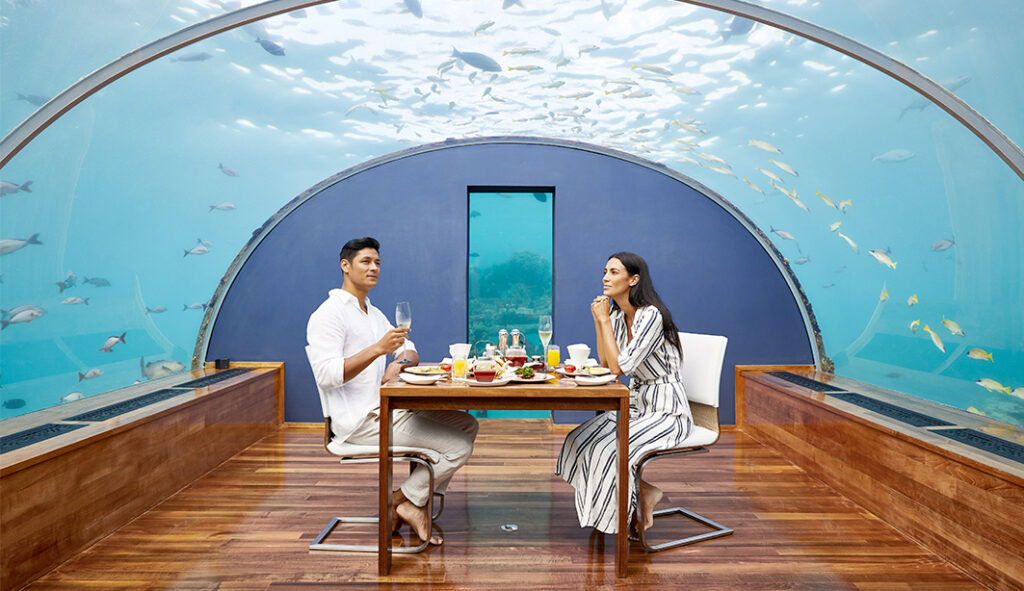 For ocean lovers, there is no better summer getaway than The Conrad Maldives. Despite its world-class accommodations, cuisines, and scenery, what makes this resort truly unique is the coveted Muraka suite. With 24-hour butler services and an outdoor deck with a private infinity pool, you and your sweetheart are guaranteed a vacation of a lifetime. If that's not enough, the suite also includes the world's first underwater hotel villa. Couples can literally sleep under the sea. Forget sheep, you and your lover can fall asleep counting the fish swimming above your bed.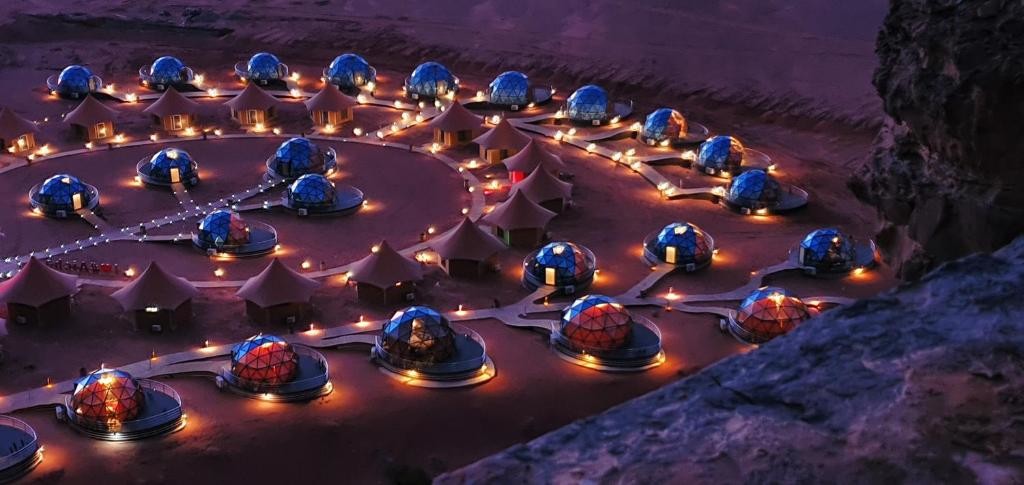 There's something magical about staring up at the stars–especially when it's with your significant other. The Memories Aicha Luxury Camp knows this. That's why they designed their entire hotel around the importance of staring at the stars. 
Nestled in the heart of the Wadi Rum, each of Aicha Luxury Camp's 55 dome-style tents is decorated with plush furnishings and a color-scheme of yellows, oranges and reds inspired by the colorful sands of the desert. For serious stargazers, the Panoramic Luxury Tent allows couples to view the rugged mountains and the stunning Arabian desert from the comfort of a king-sized bed. Whether you and your partner are nature lovers, adventurers, or hopeless romantics, the Aicha Camp allows couples to wake up in the wild outdoors without compromising an ounce of luxury. 
#3. Cuddle up in the canyons at
Amangiri
.
For couples looking for an exotic getaway – without straying far from home – the Amangiri Resort offers an excellent option. Located on a 600-acre expanse of wilderness in Canyon Point, Southern Utah, the resort is tucked into a protected valley with sweeping views over colorful, stratified rock. Couples will be swept away by the breathtaking architecture that is designed to blend into the landscape along with the natural hues, materials, and textures within the resort's interiors. Snuggle up with your special someone as you appreciate the natural wonders of the cascading bluffs and dramatic stones.  
Need to let loose? To get in touch with your wild side, there's no better teacher than Mother Nature herself. Spice up your relationship by taking your partner on a South African Safari. Savanna Game Reserve is an exclusive 5-star lodge situated in the internationally famous Sabi Sands within the Kruger National Park Conservancy. Internationally acclaimed and one-of-a-kind, the Savanna Lodge offers an exclusive, personalized, and intimate safari experience unlike any other. 
After a day of viewing the "Big 5" animal sightings, couples can end their nights in luxury-tented accommodation, world-class cuisine, and exceptional service.  
Want to impress your special someone with a grand, romantic gesture? If drama is what you're going for, it doesn't get much more grand than the Iguassu Falls. Grab your passports and head to the Belmond Hotel das Cataratas, a romantic getaway nestled within the Iguassu National Park. As the only hotel located within the national Park, you and your partner will be just a short stroll from the largest systems of waterfalls in the world.
For the most-breathtaking view of the area's collection of 275 waterfalls, take your sweetheart on an exciting helicopter flights over the Devil's Throat canyon. Other romantic adventures include rafting, nature walks, jeep safaris and a visit to the bird park.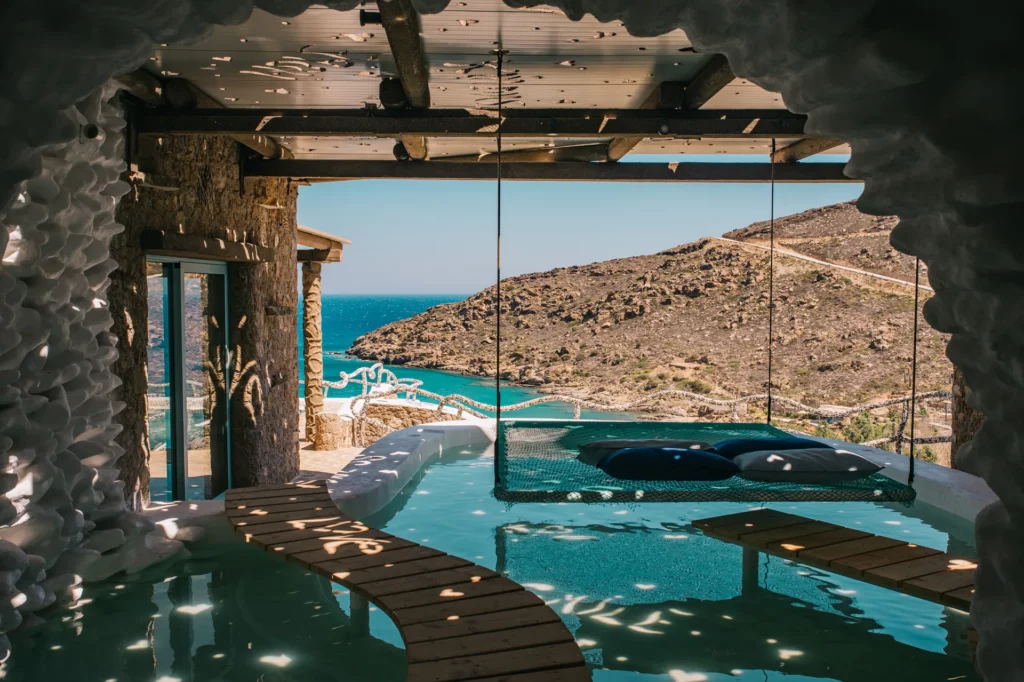 #6. Soak up some sun at
Calilo
.
 An exclusive 5-star spa resort, Calilo is the perfect pick for eco-conscious couples looking for a sunny, island getaway. At Calilo, guests can enjoy sustainable tourism in Greece without sacrificing the comforts of top-of-the-line luxury. Couples can soak up the sun as well as the incredible beaches, stunning landscapes, and local products in privacy, luxury, and comfort. 
Among its many impressive features, Calilo's private grounds include 30 individually-designed suites, each offering panoramic bay views, direct beach access, dreamy plunge pools, swim-up bars and romantic day beds. Calilo's playful and relaxed vibe will be inspiring for couples in the need to relax, realign, and reconnect. With the sand between your toes and the sun on your skin, there's no better place to escape with your lover.
#7. Connect with nature (and each other) at
El Silencio
.
The daily responsibilities of life often make it difficult to connect with your soulmate. Sometimes, all you need to ignite that spark again is to unwind, relax, and go somewhere far, far away. One of Costa Rica's most unique and tranquil luxury resorts, El Silencio Lodge & Spa is just that. Located on a 500-acre private reserve between the Juan Castro Blanco and Poás Volcano National Parks, El Silencio is a natural immersion retreat that promises a transformative, nature-based experience for its guests.
Besides its upscale facilities, couples can enjoy Costa Rica's charming cloud forest highlands, misty tropical cloud forest, roaring waterfalls, and colorful culture. This unique destination is ideal for couples who need a little peace and quiet to revamp the romance within their busy lives. 
For couples in need of the royal treatment, look no further than Rambagh Palace. The history of Rajasthan is rich with legendary tales of love and valor. Since its construction in 1835, the Rambagh Palace has been home to generations of royals.
The "Jewel of Jaipur" features stunningly restored suites that were the chambers of the former Maharaja, himself. Couples can bask in the beauty of the palaces' breathtaking décor. Inspired by the warm hues of the state of Rajasthan, the palace features marbled corridors, majestic gardens, and extravagant fine art. For the best views, we recommend booking the legendary Peacock suite, which overlooks the stunning greens of the Mughal Terrace. For couples seeking an exotic vacation without sacrificing the luxury, rich history, or fun activities, the Rambagh Palace is the place for you.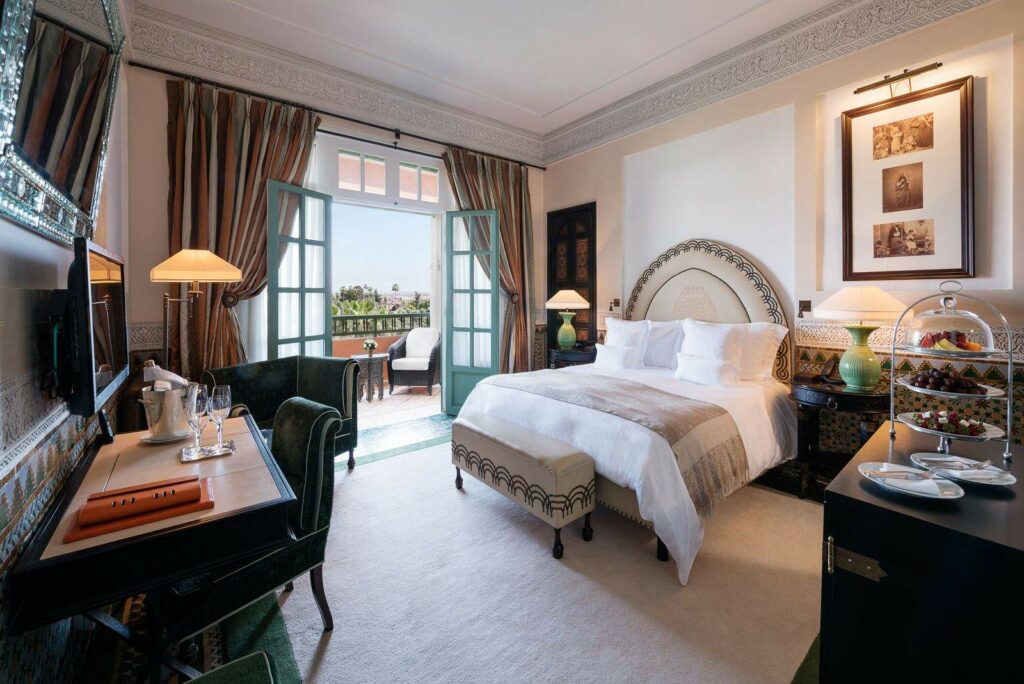 #9. Escape in Luxury at
La Mamounia
.
One of Morocco's most well-known (and most expensive) resorts, La Mamounia is recognized globally as a symbol of traditional Moroccan hospitality. From Winston Churchill to Paul McCartney, the resort has been a favorite for many famous figures throughout history. Even Condé Nast Traveler agrees, naming La Mamounia as the best hotel in the world. 
Meaning "the safe haven" in the Arabic language, La Mamounia takes it name to heart. Its 17-acre park includes luxurious decorations, fabulous gardens, and a top-of-the-line spa. Just a five-minute walk from Jemaa El Fna square, this legendary Moroccan palace is the perfect, serene retreat from the imperial city. Its totally redesigned interior combines authentic Moroccan style and ambiance with the latest technologies. For couples looking for a romantic yet Instagram-worthy getaway, La Mamounia will not disappoint. 
Located in the heart of Cappadocia on the site of an ancient monastery in Old Uchisar Village, Argos in Cappadocia is a world-class boutique hotel ideal for travelers in the mood for romance and relaxation. The hotel consists of the restored remains of historical dwellings, underground tunnels, and caves, offering guests an unparralled vacation experience.
Among its many unique features, exists a three mile long tunnel and an underground city that connect the hotel's six mansions. We suggest booking the hotel's Splendid Suites. Featuring private gardens, panoramic city views, and even a cave pool, these suites are perfect for couples looking to turn up the romance.